Reading time: 2 min
Put A Stop To Excessive Idling
Vehicle idling is eating your profit margin. How to stop it with GPS Tracking & Fleet Management solutions.
By Suhardi Looze
One of the easiest types of vehicle misuse you can spot in our GPS Tracking & Fleet Management Solution is excessive idling.
To be honest, most of our clients have dealt with this kind of asset misuse before they implemented our system. Fleet managers suspected this kind of misusage of their vehicles but didn't have the proof.
What is excessive?

Of course excessive is subjective, so you can decide when idling becomes disproportionate. When a cooling truck delivers perishable foods, the engine must be on to keep the cooling system running, but if your sales team spends more than an hour with the engine on so they can enjoy a lunchbreak in an airconditioned vehicle, that is excessive.

Also remember that all the unnecessary idling minutes add up, per vehicle per day. So at the end of the month you will be looking at hours of engine idling of your fleet after a couple of weeks.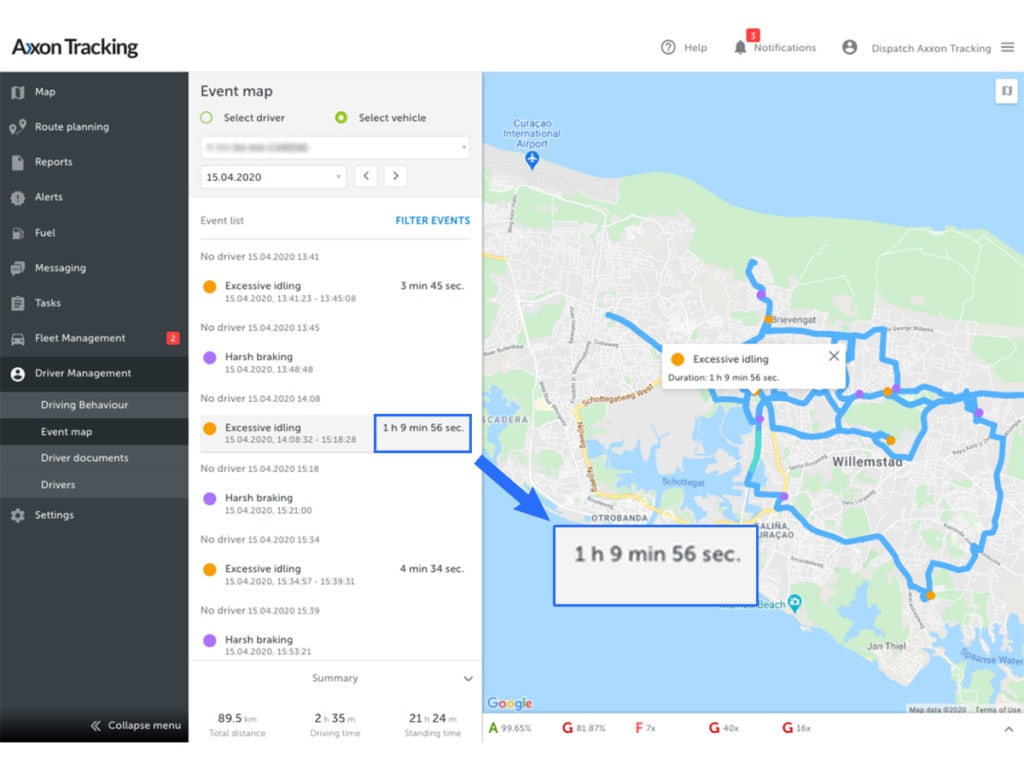 What you can prevent

There are actually multiple benefits when stopping excessive idling of you vehicles. The most important ones are:
Wasted fuel
Shortened vehicle lifespan
Increased maintenance costs
Shortened vehicle warranty (on engine hours)
Lowered return on investment (ROI) on your fleet
How to set it up
In our system you can easily spot excessive idling and reduce engine hours thru a number of ways:
Event map; see all the most important events (you decide) in one overview. Select the date or date range, the driver or vehicle, and filter which events you want to see on an interactive map.
Vehicle alerts; setup customisable alerts for when a vehicle overspeeds more than a defined speed or idles longer dan a set time for example. Get a notification in the desktop or mobile application, or get notified thru e-mail.
Actionable reports; you can setup scheduled and automated reports (30+) with an easy to read report so you can see the (total) idling times per route, per vehicle in a specific date range. The reports will be delivered when you want them in your email inbox.
Engine idling severely impacts the profitability of your vehicle fleet, so stopping this kind of asset misuse delivers a fast return on investment (ROI) of our GPS Tracking and Fleet Management Solution.
Read more about how our clients solve their challenges with Axxon Tracking in our Success Stories.
With Axxon Tracking you have simple, yet powerful tools to effectively monitor and manage your vehicles, temperatures, and other assets.

We provide businesses in the Caribbean with Industrial IoT tracking devices and management tools. Based on Curaçao, we service other islands ; Aruba, Bonaire, Sint Maarten, Antigua and Barbuda, Martinique, Guadeloupe, Barbados, Grenada, Anguilla, Dominica, Saint Lucia, Saint Kitts and Nevis, Saint Vincent, with GPS Tracking, Asset Tracking, and Remote Temperature Monitoring Solutions.