Reading time: 2 min
What Is An OBD GPS Tracker And When To Use It
Easy plug and play installation creates advantages for fleet managers.
By Suhardi Looze
What is an OBD tracker?
OBD stands for on-board diagnostics and almost all recent vehicles have an OBD port, usually located on the driver side at the bottom of the dashboard. Through this connection you can get information from the vehicle. Emission tests, diagnostics, and real-time engine data can easily be obtained this way.
Advantages of an OBD GPS Tracker
Plug and play, easy installation; an OBD GPS Tracker can be easily plugged into the OBD port of the vehicle for it to work.

When using multiple vehicles the OBD interface makes it easy to switch vehicles, using only 1 device.

You get the same advantages of the GPS tracking and fleet management solution as you would with a regular (wired) vehicle tracker.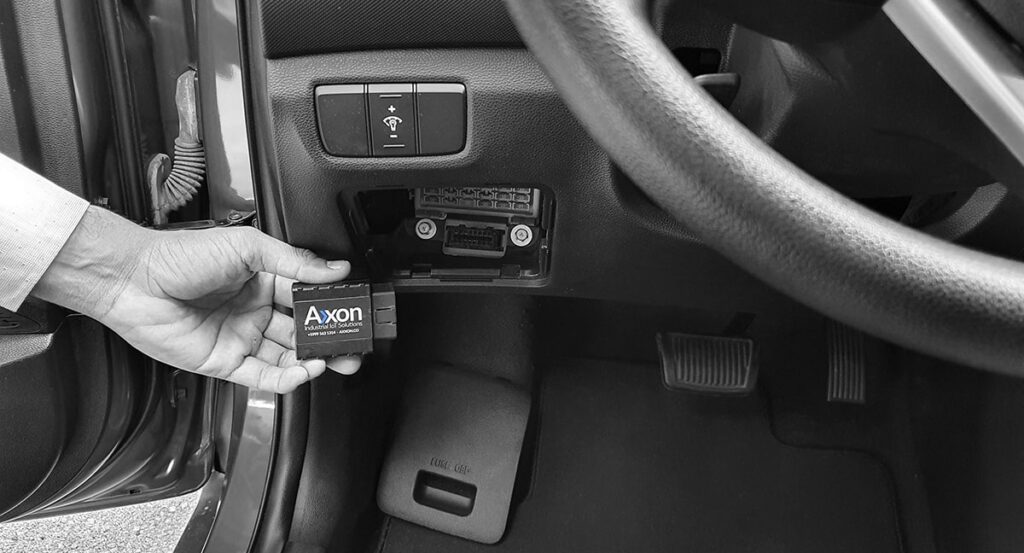 Use case for OBD Trackers
You have salespeople that are visiting prospects and clients using their own privacy vehicles. Because they do not use company vehicles, expenses related to vehicle use are paid to your mobile workforce.
Usually salespeople are responsible for logging their working hours and mileage. The problem is that this is not verifiable for you as a manager.
When you require your drivers to use an OBD tracker when they are working, you will get all the necessary data to verify key information when your team is 'on the clock'.

During lunch breaks or at the end of the working day they simply remove the OBD tracker, ensuring there are no privacy issues. 'The Boss' doesn't know and need to know the whereabouts of their employees in their free time. Giving both you as the manager and the driver, peace of mind.
Actionable reports are available for:
Working hours; this also prevents unnecessary overtime for example.
Mileage; are the fuel costs in line with the driven distance?
Object visits; when, which, and how many clients were visited?
Idling; stop excessive idling, when vehicles are standing still with the engine turned on, for example, more than 10 minutes, fuel and time is being wasted.
You can mix OBD and regular GPS Trackers within your fleet. All the other benefits you get when using a GPS Tracking and Fleet Management Solution are described here.
With Axxon Tracking you have simple, yet powerful tools to effectively monitor and manage your vehicles, temperatures, and other assets.

We provide businesses in the Caribbean with Industrial IoT tracking devices and management tools. Based on Curaçao, we service other islands ; Aruba, Bonaire, Sint Maarten, Antigua and Barbuda, Martinique, Guadeloupe, Barbados, Grenada, Anguilla, Dominica, Saint Lucia, Saint Kitts and Nevis, Saint Vincent, with GPS Tracking, Asset Tracking, and Remote Temperature Monitoring Solutions.