Reading time: 1 min
Slower Does Not Mean Safer
Infographic - Slow speed can have a big impact. Statistics show the danger of risky driving at speeds under 5mph.
Our partner Lytx® analyzed driving data over a six-month period of time across its entire client database. Insights derived from the Lytx database of more than 100 billion miles of driving data for more than 1 million drivers.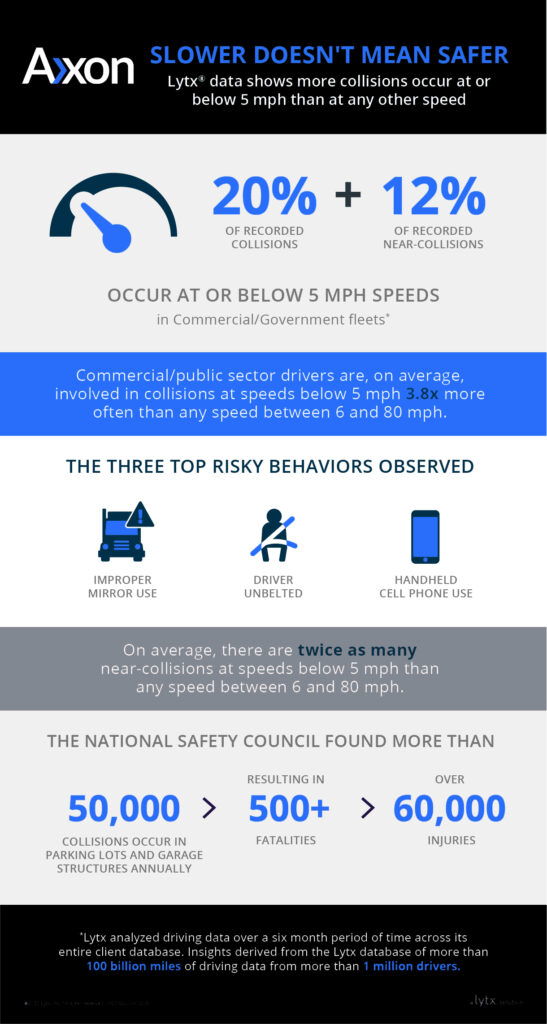 Safety-conscious Fleet Managers need verifiable and unbiased data to comply with the company's fleet regulations, local laws, and safety standards. Implementing a GPS Tracking and Fleet Management Solution, installing Connected AI Dashcams, and having a Driver Safety Program in place are critical elements in creating a safer fleet.
With Axxon Tracking, you have simple, yet powerful tools to effectively monitor and manage your vehicles, temperatures, and other assets.

We provide businesses in the Caribbean with Industrial IoT tracking devices and management tools. Based on Curaçao, we service other islands; Aruba, Bonaire, Sint Maarten, Antigua and Barbuda, Martinique, Guadeloupe, Barbados, Grenada, Anguilla, Dominica, Saint Lucia, Saint Kitts and Nevis, Saint Vincent, with GPS Tracking, Asset Tracking, and Remote Temperature Monitoring Solutions.