Reading time: 2 min
This is how preventive maintenance keeps your operations running smoothly
Planned technical maintenance keeps your assets in optimal working condition and reduces unscheduled repairs and downtime.
By Suhardi Looze
When you have a fleet of vehicles, it can be hard to keep track of all the maintenance that needs to be done. This is where fleet management systems can come in handy. They help with keeping track of preventive maintenance and service reminders for your fleet vehicles.
This is why preventive maintenance is important
With a fleet management system, you can:
Prevent costly downtime and vehicle breakdowns by staying on top of scheduled maintenance;
Maximize vehicle uptime by scheduling service reminders;
Reduce the time needed for routine inspections through online scheduling and reporting;
Track performance metrics like fuel mileage and idle time over time for individual vehicles or groups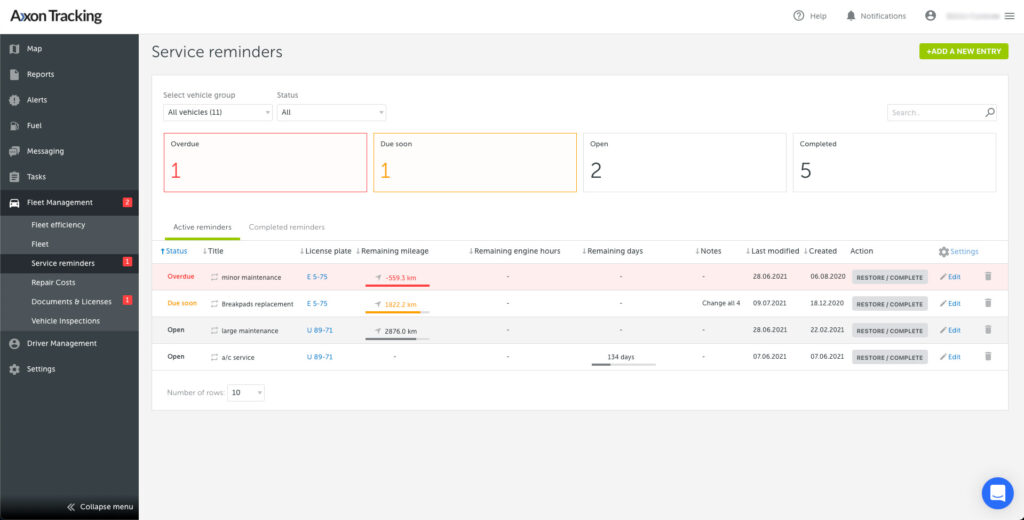 Fleet Management
In our solution you can manage and track all your maintenance tasks based on time or usage. Usage-based maintenance schedule can be based on GPS tracked mileage or engine hours for example.
Examples
Our customer use our preventive maintenance dashboard with service reminders to track a wide variety of tasks; brake pads repacements, AC maintenance, oil changes, and so on. This is fully customizable, so one of our clients got creative and is tracking their printer maintenance en toner refill in the system.
Vehicle Inspections
Regular vehicle inspections help to identify potential problems early on. Letting your drivers do vehicle inspections via our included mobile application makes this process fast and hassle-free. The integrated workflow is easy to use, saves time, and prevents unnecessary downtime of vehicles.
This is what our the mobile app for drivers looks like; driver app for vehicle inspections.
With Axxon Tracking you have simple, yet powerful tools to effectively monitor and manage your vehicles, temperatures, and other assets.

We provide businesses in the Caribbean with Industrial IoT tracking devices and management tools. Based on Curaçao, we service other islands ; Aruba, Bonaire, Sint Maarten, Antigua and Barbuda, Martinique, Guadeloupe, Barbados, Grenada, Anguilla, Dominica, Saint Lucia, Saint Kitts and Nevis, Saint Vincent, with GPS Tracking, Asset Tracking, and Remote Temperature Monitoring Solutions.