Reading time: 3 min
Fleet Managers: What Are Your KPIs for 2023?
KPIs help fleet managers measure the efficiency of their fleet and are one of the best ways to increase productivity and get costs under control.
By Suhardi Looze

As a fleet manager, what are your key performance indicators for 2023? (KPIs)
KPI's help fleet managers measure the efficiency of your fleet and the effectiveness of your fleet management strategy and are one of the best ways to increase productivity and get costs under control.
So why would you want to track Fleet Management Key Performance Indicators?
Spot abnormal vehicle use; off route stops and unusual high maintenance costs for example.
Identify potential safety issues; bad driving habits such as harsh braking, cornering and accelerating.
Know where to optimize and save on unnecessary costs; wasteful driving behavior like (excessive) idling or fine-tune vehicle asset maintenance.
Increase customer satisfaction; tracking fleet management key performance indicators can help ensure your products and services are delivered on schedule.
These are the most important KPIs you should track as a fleet manager operating in the Caribbean.
This list comes from our experience and feedback from our 300+ Caribbean-based clients across multiple industries like logistics, distribution, health care, construction, transportation, and more.
1. Idling
Excessive idling is one of the most common misuses our clients identify after installing Axxon Tracking Fleet Management Solutions.
Of course excessive is subjective, so you can decide when idling becomes disproportionate. When a cooling truck delivers perishable foods, the engine must be on to keep the cooling system running. But if your sales team spends more than an hour with the engine on so they can enjoy a lunch break in an airconditioned vehicle, that is excessive.
Learn more on how to stop excessive idling.
2. Route adherence
Are your drivers sticking to the designated routes? Routes might be optimized, saving time and fuel. Or for safety reasons a route should be changed. One of our clients even identified the theft of goods by monitoring the routes of the drivers. Learn how Aruba-based Romar Trading stops theft.
3. Virtual time cards
Engine start/stop times can be used as virtual time cards and translate to efficiency and schedule adherence. Know when your workforce starts and ends their workdays and even export this data into reports, which reduces paperwork and streamlines administration processes. You could also use geofencing to monitor specific job sites, see how.
4. Bad driving behavior
Increase your fleet safety by proactively decrease bad driving behavior.
Enforcing your driver policy is easier with unbiased data. Bad driving behavior reports give you the tools to act and make the necessary changes to improve your fleet's safety. These reports show bad driving behavior incidents like harsh cornering, speeding, excessive idling, and hard braking and acceleration. Bad driving behavior not only contributes to unnecessary additional wear and tear of your vehicles but is also an indicator of a higher traffic incident rate.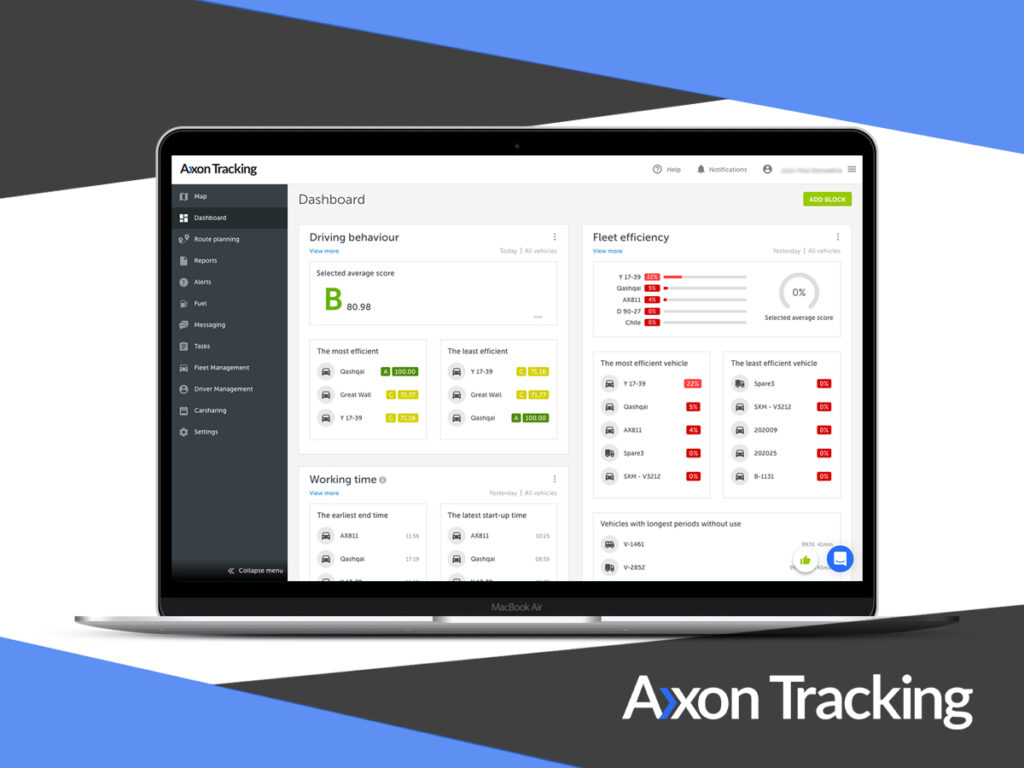 5. Vehicle utilization
How much value does each asset generate for your organization? What are the hours of service (HOS) for each vehicle? Are vehicles being used more often than others? Some vehicles might be in the repair shop for too long. Knowing what each fleet asset brings to the organization as a whole gives the fleet manager or operations manager the power to make informed decisions.
6. Maintenance
Scheduled maintenance, breakdowns, and unexpected failures increase the downtime of your assets. Having a clear overview of these indicators enables you to go from a reactive to a proactive workflow. An example is monitoring battery voltages of your vehicles and set up automatic alerts when a battery is due to fail. Learn how.
Preventive maintenance helps you mitigate risks and costly downtime of company assets.
KPI's and reporting with Axxon Tracking
With our solution you have access to more than 30 reports, each report being applicable to specific business use cases. The Routes Report is widely used by our clients and delivers the most required KPI's. The report gives a clear overview of visited clients or objects, traveled distances, maximum speed to identify overspeeding, idle time with the ignition on, and parking time.
Schedule the report to be emailed to you, say every Monday morning, and you have concrete data to manage drivers and thus your fleet.
With Axxon Tracking you have simple, yet powerful tools to effectively monitor and manage your vehicles, temperatures, and other assets.
We provide businesses in the Caribbean with Industrial IoT tracking devices and management tools. Based on Curaçao, we service other islands; Aruba, Bonaire, Sint Maarten, Antigua and Barbuda, Martinique, Guadeloupe, Barbados, Grenada, Anguilla, Dominica, Saint Lucia, Saint Kitts and Nevis, Saint Vincent, with GPS Tracking, Asset Tracking, and Remote Temperature Monitoring Solutions.