Reading time: 2 min
How Geofencing Improves Your Daily Operations
What is geofencing and what are the benefits? Here is a complete overview for Fleet Managers.
What is geofencing?
By Suhardi Looze

Geofencing is a virtual perimeter or boundary (hence the word 'fence') that is set around a physical location. It uses the coordinates on a map and the GPS location of assets (vehicles or heavy equipment for example) to determine their relative position. From there you can get lots of valuable information about your assets.
You can create a geofence for your points of interest, such as your head office, warehouses, work sites, or customers. The direct benefit is that it improves the readability of most of the reports; rather than seeing an address, you see the name of the point of interest (customer X for example).
Create alerts based on geofences to respond quickly and maximize your workforce.
The fleet management benefits of geofence monitoring with GPS tracking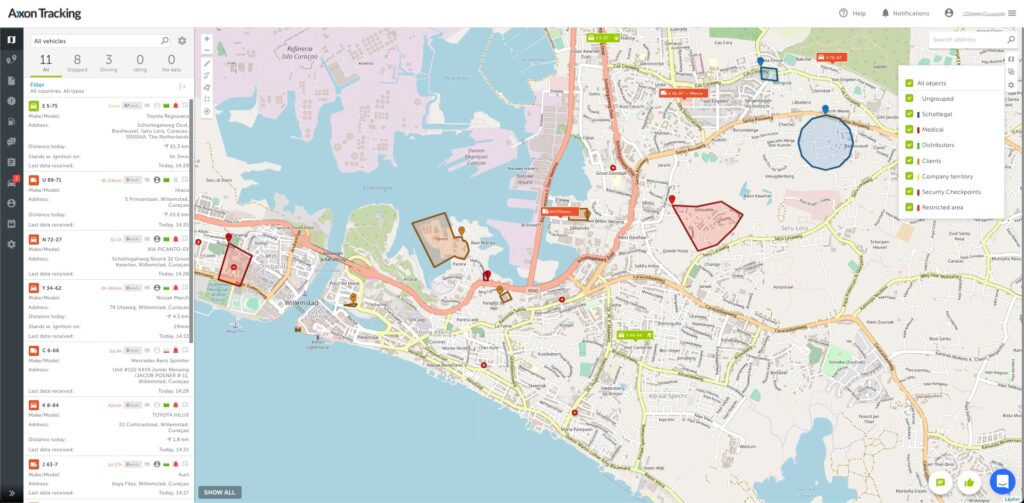 Vehicle Tracking

ETA
Knowing the estimated time of arrival of your vehicles so you can prepare for the next load saves precious waiting time.

Checkpoints
Our customers in the security industry use geofencing to set up security sections and checkpoints for their patrols. This makes reporting more manageable, whether it is to check patrol routes or have detailed info ready when incidents occur.

Misuse
Get notified if assets are entering an area where they are not allowed to go.
Are vehicles leaving the normal delivery route? Identify misuse and get your workforce back on track. Learn how Lovers Global stopped misuse.
Customer Service
Provide a delivery ETA (estimated time of arrival) for your customers and improve your customer service. See how one of our customers does it.
Decrease Downtime
Determine which assets can be deployed immediately, create an active and inactive (or repair shop) area parking for example, and see, in real-time, which assets are where.
Identify and decrease wait times at specific locations, loading locations for example.
Prevent Theft
When an asset or vehicle is removed from a geofence perimeter when it shouldn't, you'll receive alerts that will help you respond faster. Another advantage is you have a lot more detailed information for the police, increasing the likelihood of recovering stolen assets.
See how our customers prevent theft with geofencing.
Time Management
Geofencing can be used as virtual time cards. See when your workforce 'clocks in', and know exactly when they arrive on a job site for example. You can then easily create reports to see monthly job site visits, duration, and frequency.
Asset utilization and productivity
Knowing instantly where your assets are and if they are available (are they in storage or at a job site?) is crucial for optimal asset utilization and will help you maximize your productivity.
With Axxon you have simple, yet powerful tools to effectively monitor and manage your vehicles, temperatures, and other assets.

We provide businesses in the Caribbean with Industrial IoT tracking devices and management tools. Based on Curaçao, we service other islands; Aruba, Bonaire, Sint Maarten, Antigua and Barbuda, Martinique, Guadeloupe, Barbados, Grenada, Anguilla, Dominica, Saint Lucia, Saint Kitts and Nevis, Saint Vincent, with Connected Dashcams, GPS Tracking, Asset Tracking, and Remote Temperature Monitoring Solutions.